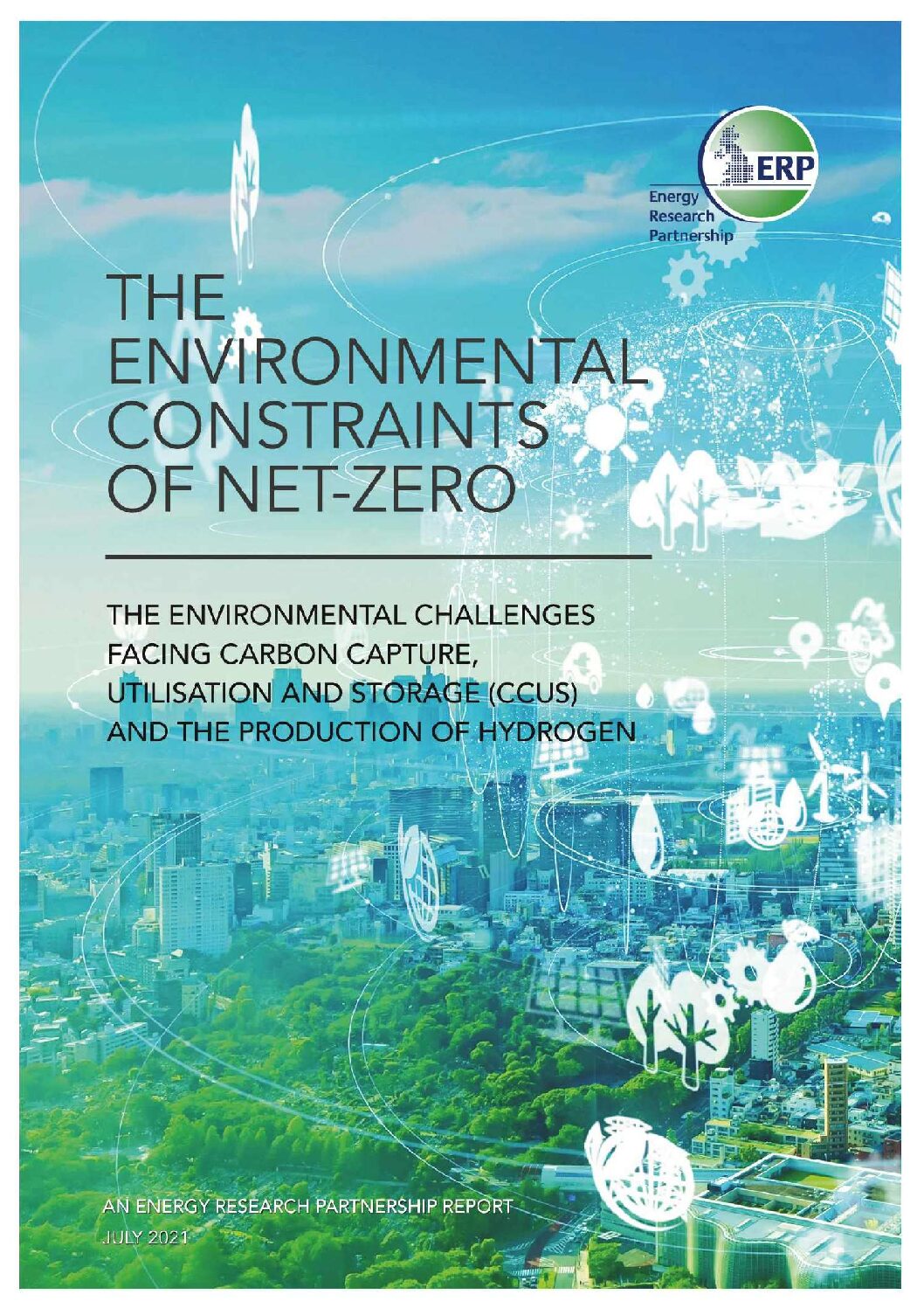 Latest ERP report highlights the environmental challenges facing Carbon Capture, Utilisation & Storage (CCUS) and Hydrogen.
Why are environmental constraints on CCUS processes – production, transportation, storage and use of carbon dioxide – and the production, storage, transportation and use of hydrogen important? Can we deploy these technologies at scale in the UK and protect our communities and wildlife? Could our air, land and water be affected? Can we move and store carbon dioxide and hydrogen safely and for the long term? This report looks to raise important environmental considerations associated with these questions:
What are the main environmental challenges associated with CCUS and Hydrogen?
Do environmental constraints represent a fundamental barrier to deployment of CCUS and Hydrogen at scale?
How can we ensure environmental considerations are key to strategic decisions about the potential role of CCUS and Hydrogen?
How do we listen to and respond to public concern about CCUS and Hydrogen?
The report recommends:
Consider whether water resource and quality issues will limit the deployment of CCUS at scale.
Put safety of the public and the environment first.
Be open and transparent about risks, including solvents.
Calculate total efficiency of the complete CCUS process.
Calculate the total expenditure (Totex) cost of CCUS.
Demonstrate carbon dioxide storage is safe and permanent.
Proactive and visible public engagement.
Conclusions:
As with many emerging technologies, Hydrogen and CCUS provides exciting opportunities and pose new challenges too. The UK Government and the Climate Change Committee both see a significant role for hydrogen and CCUS in the journey to Net Zero by 2050. To ensure this opportunity is grasped, then collectively the industry, government, and regulators must explore both the benefits and risks the technology brings at the earliest opportunity. We are facing a climate emergency and an ecological emergency – it is essential that new technologies are deployed to both deliver decarbonisation and protect people and wildlife too. Investors, regulators, and the public are hungry for assurance that new technologies:
will be fit for the future when deployed at scale.
they can operate within the environmental constraints a future climate brings.
and most importantly, human health is prioritised.
By resolving these questions in a prompt, open and transparent way then developers can build investor confidence and public acceptance of the technology which will be needed to improve the prospects of a smooth energy transition towards Net-Zero.